Help us find them at MEC 2014!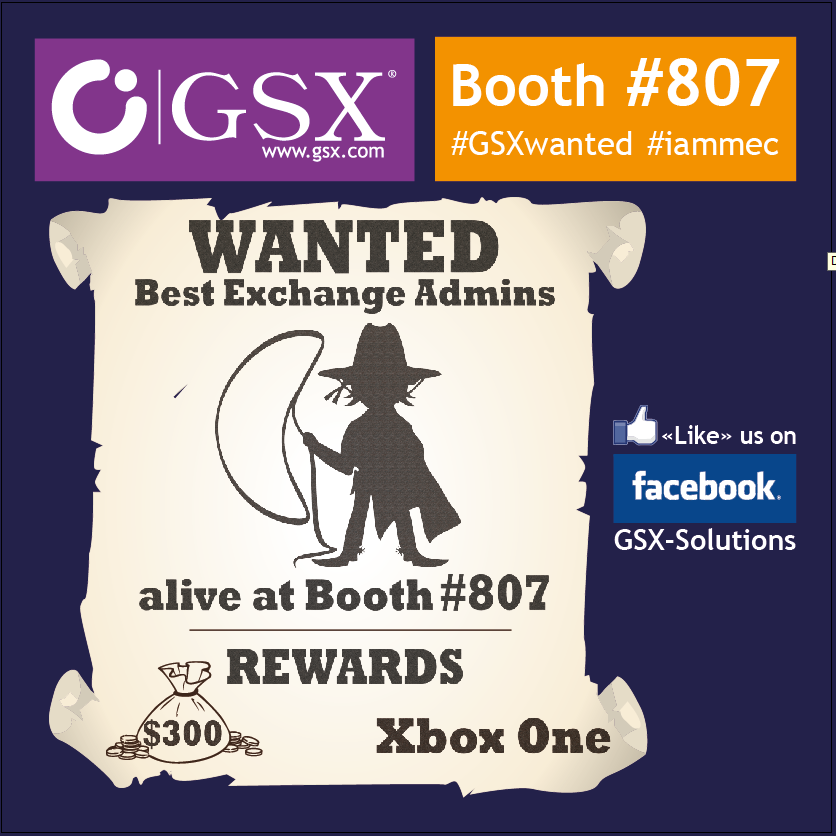 WANTED! Best Exchange A
dmins at Booth #807
After 2 years of manhunting, GSX Solutions decided to reward the people who will help them find the "Best Exchange admins". GSX Solutions is back at MEC 2014! Come by booth 807, hand us in the "fugitives" we are looking for and get a chance to win a $100 and $200 gift cards, or even better, an Xbox One!
Want to enter to win? Follow our easy instructions:
If you are, or if you know the "best Exchange admin" at MEC 2014, come by GSX Solutions' booth 807.
Take a look inside your Microsoft give-away bag, find the GSX lottery leaflet with your lottery number and give it to a GSX member.
You will have the chance to picture yourself as THE "best Exchange admin" and share it on Facebook and Twitter, using #GSXWANTED #iammec

Enjoy our fun GSX Solutions give-aways while waiting for Wednesday 2nd of April at 11:45AM to find out who is the "best Exhange admin" and the winners of the $100, $200 and Xbox One FIFA 2014 pack!
Prizes description:
1st prize: Xbox One FIFA 2014 package
2nd prize: $200 gift card
3rd prize: $100 gift card
GSX Solutions also offers entertaining give-aways such as light-up sunglasses and more!
Stay tuned MEC 2014 attendees, GSX Solutions is getting ready to come to Texas and be part of it's Western history!