If your organization is utilizing SharePoint Online, analyzing and tracking activity is critical. Who within your company is using SharePoint Online, how are they using it, and why? Are you receiving a positive ROI from your SharePoint implementation?
Let's explore which types of reports are most relevant in helping you manage SharePoint Online.
SharePoint Storage
Monitor your SharePoint Online storage consumption quickly and efficiently to prevent runaway costs.
With GSX 365 Usage, you can drill down into each site collection and its content to see where the most storage space is being consumed. GSX provides granular reports based on filters such as country, department, etc.
Permissions
Reporting on permissions can help you ensure compliance with your SharePoint Governance policies.
GSX 365 Usage allows you to verify how permissions are applied at each level of your SharePoint online hierarchy, and quickly identify if there are any unique, non-inherited permissions set in your environment
Settings
SharePoint is a wonderful tool box containing a lot of sensitive data. For this reason, it should not be a lawless zone — you should be proactive in addressing security and compliance.
To minimize security risks to your confidential data, you should be able to quickly identify what can be shared outside of the organization. The Sharing Settings reports show you any content at risk with just a single click.
GSX 365 Usage comes with a whole host of additional settings reports, including Versioning and Auditing. The Versioning Settings report shows the versioning configuration of your document libraries, so your users don't overwrite important files that are difficult and time consuming to recover. The Auditing Settings report shows how auditing is configured for your site collections.
Usage
Usage reporting will inform you of which users are active on SharePoint, which business tasks they are performing, and if user adoption is trending upwards.
Top Sites by Size reports allow you to pinpoint the largest sites and sub-sites, and track consumption quotas. This allows you to keep an eye out for declining usage, which can be a sign that the platform is not useful to people, or that it is difficult to use or understand. Top Users reports will allow you to measure user adoption throughout your company. User adoption is the key factor that leads to the success or failure of your SharePoint implementation.
These statistics are most useful when viewed over time to observe general usage trends. Currently, audit history in the native Admin Center is retained for 180 days, and admins can export results to a CSV file for additional reporting in Excel. These are two of the limitations of the Admin Center that you can easily overcome with GSX 365 Usage.
See a comparison between capabilities of the Office 365 Admin Center and GSX 365 Usage: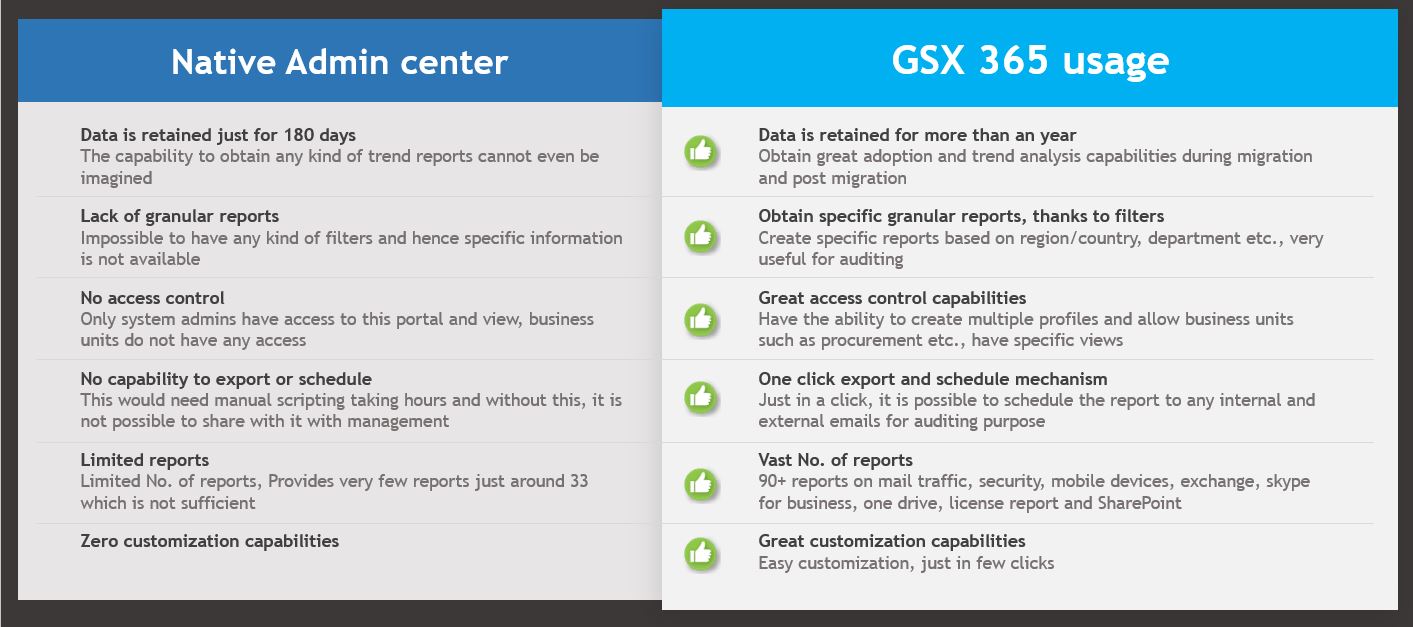 GSX 365 Usage is a simple-to-use web application that allows you to create reports about your Office 365 environment. It gives you insights and analytics into how people in your organization are using SharePoint Online. With GSX, you have the ability to identify security risks and costs savings while maintaining visibility of changes in your environment.
GSX Solutions provides the only Office 365 user experience monitoring tool that truly measures the quality of the service delivered to all enterprises' sites, enabling their IT to take power of the Office 365 performance.
Get started today with Office 365 monitoring and see how you can keep your employees on the path to optimal productivity.