This article is part of a series on Office 365 Service Delivery Management. In the previous article we had a look at Office 365 contracts & SLAs. Now let's have a closer look at Microsoft recommendations for service management.
Microsoft states in their blog, the "Service Management should be a focus for all customers". Microsoft defines Modern Service Management as a way to ensure business consumption and productivity.
This model is based on 4 pillars. Let's start with Service desk.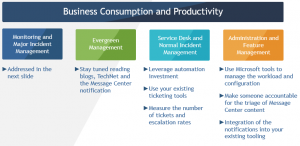 Service Desk and Normal Incident Management needs processes in place to support your users in their day-to-day lives.
For that Microsoft recommends leveraging automation investment from the Office 365 service.
They also recommend using your existing ticketing tools to measure the number of tickets and escalation rates in order to focus on the right areas.
Regarding Administration and Feature Management, use every tool that Microsoft provides to manage the workload and configuration.
The Evergreen Management defines the processes in place to test, implement and be ready for the continuous improvement that Microsoft implements into Office 365 regularly.
To manage that you should make someone accountable, on a daily basis, for the triage of Message Center content and the integration of the notifications into your existing tooling.
You should stay updated by reading blogs, technets and the message center notifications, to understand when new features will be implemented and how they could impact your end-user experience.
Let's focus now on monitoring and major incident management.
Monitoring and Major Incident Management 
It defines the processes that ensure the detection and troubleshooting of end-user service delivery issue, regardless of root cause.
The main challenge here is to bring back visibility on the services that you actually deliver to your end-users.
For that Microsoft recommends integrating the Office 365 service health dashboard notifications into your existing incident workflow and tools.
Then, to combine this information with end-to-end monitoring scenarios that will measure the true end-user experience for each main capability of Office 365, from where your users are.
By Capabilities, Microsoft defines, for example for Microsoft Exchange:
? Login via Outlook
? Mail flow
? Mobile Sync
For SharePoint Online or OneDrive.
? Login
? Download / upload document
For Skype for Business Online:
? Login via Skype Client
? Instant messaging and presence
? Voice call
As we can see, Microsoft clearly states that you need to have visibility on what users are able to accomplish with Office 365.
To complete this first set of recommendation, we would recommend that you:
? Find the right balance between measuring too many complex scenarios that would quickly become unmanageable, and not measuring
enough, thus decreasing the visibility you would have on the service.
? Check performance also; measuring availability is not enough.
? Measure whatever is creating the most user complaints and tickets to your Service Desks.
If we take the example of Exchange Online again, you would then also include:
? The availability and performance of creating meetings, and use of the free/busy feature
? The availability and performance of searching through a mailbox
? The availability and performance of downloading an attachment
That would give a first good step for your Exchange Service Delivery.
As we already mentioned, the GSX Robot Users have been designed to perform the end-user transactions you need to measure.
That is why GSX is a Microsoft CoSell prioritized solution, and has been approved by Microsoft to deliver our solution both the Azure MarketPlace and the Office 365 Appsource.
To finish our discussion of the Microsoft recommendation about Office 365 Service Management, it is also interesting to understand how they are organized to manage the incidents and communicate on them.
Response to Incidents: Microsoft Organisation
Within the Microsoft Office 365 organization, you have multiple teams that work together to prevent and communicate about service outages.

For that you have incident managers that have deep expertise in their relevant area. They determine the scope of outage and the root cause, then go through incident resolution.
You have communication managers that also have a deep expertise that coordinate and provide information across internal teams and post customer facing communication to the service health dashboard.
You then have support that are technical resources, providing 24*7 customer phone and web support.
And finally, you have service account management that are account representative and that can escalate tickets and provide rapid on-site support.
Below you can see the communication process Microsoft follows for each incident.

You don't have to entirely replicate the Microsoft Service Incident organization, but it gives you a good staring basis on how to be organized, especially for large organizations.
This concludes our article on Microsoft recommendations for Modern Service Management of Office 365.
But Microsoft is not the only SaaS provider on the planet, and best practices for Cloud Service delivery have been developed and refined for many years.
In this series of articles on Office 365 Service Delivery Management, we discuss:
GSX Solutions provides the only Office 365 user experience monitoring tool that truly measures the quality of the service delivered to all enterprises' sites, enabling their IT to take power of the Office 365 performance.
Get started today with Office 365 monitoring and see how you can keep your employees on the path to optimal productivity.